Research has found that disadvantaged pupils have been worst affected by the impact of the pandemic. It is therefore more important than ever that school strategies focus on support for disadvantaged pupils.

The Department for Education has released updated pupil premium guidance and a new template that schools are required to use to publish their strategy statement from the 2021/22 academic year onwards. This includes a new requirement for schools to demonstrate that they have considered evidence when developing their strategy.

The EEF's updated Pupil Premium Guide is a practical guide to support schools to develop their pupil premium strategy based on the best evidence, and to meet updated DfE requirements.

Key principles
The pupil premium provides important support to contribute to the attainment of pupils from disadvantaged backgrounds. Your school or trust's pupil premium strategy should be founded on the following principles and practices:

Considering a tiered approach to Pupil Premium spending can help schools balance approaches to improving teaching, targeted academic support, and wider strategies.
School leaders should focus on a small number of priorities each year in areas that are likely to make the biggest difference, with a focus on effective implementation.
The approaches adopted should be selected on the basis of strong external evidence. School leaders must consider a broad array of external evidence to inform their decision making, to enhance the expert knowledge they have of the pupils in their care.
The pupil premium strategy should be embedded within a broader strategic implementation cycle, such as the one set out in the EEF Implementation Guidance Report.

Designed to support school leaders in devising purposeful, evidence-informed pupil premium strategies appropriate for their school community.
The development of an effective pupil premium strategy should be cyclical and considered an integral part of existing school development planning. It should be sustained over a three-year period, including ongoing monitoring and evaluation in an annual cycle.
School leaders may wish to consider the following 4 steps in developing and sustaining their strategy: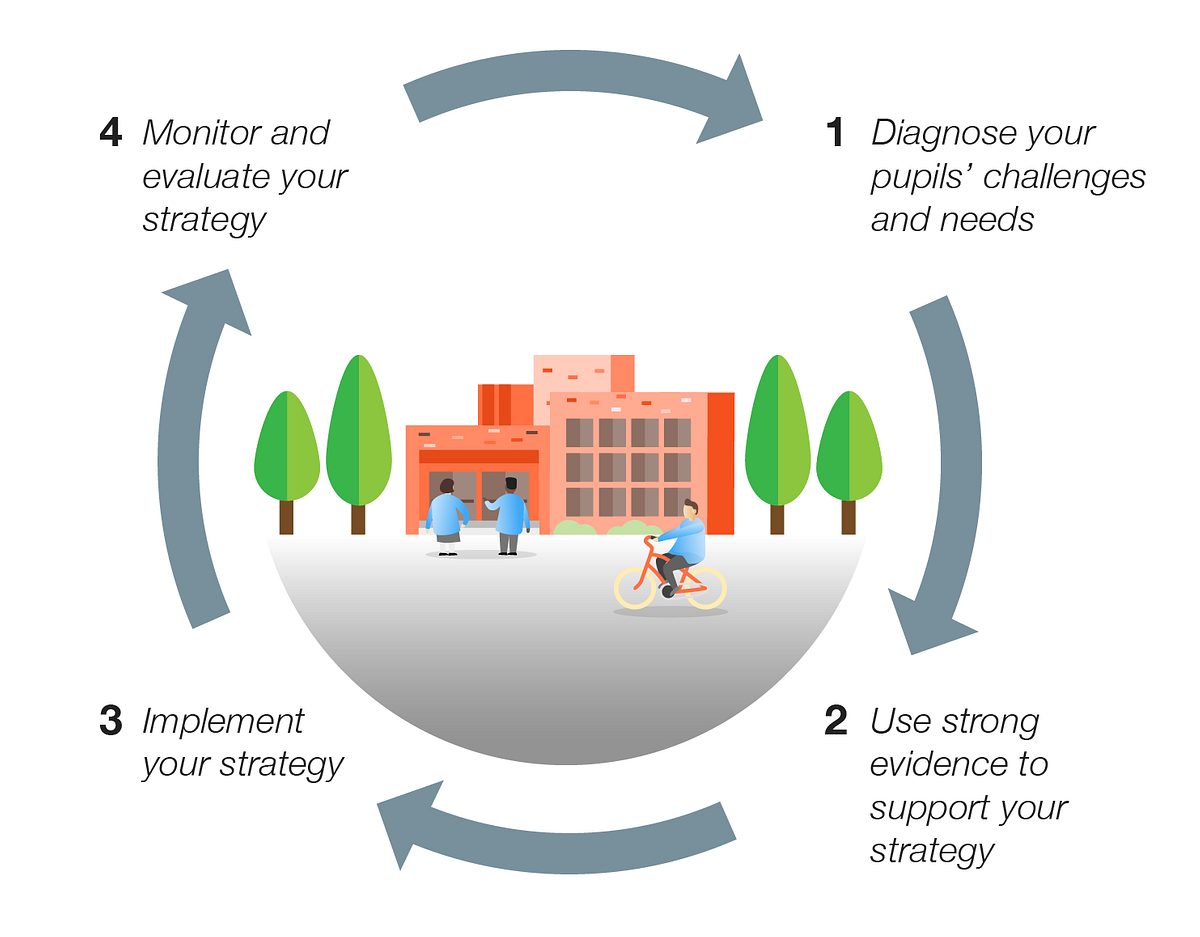 Gaining a thorough knowledge of your disadvantaged pupils' levels of attainment is the first step in developing an effective pupil premium strategy.
Once you have gauged the performance of your disadvantaged pupils against national benchmarks, for pupils whose attainment is below age related expectations, you should examine what could be hindering their attainment.
This will involve diagnostic assessment of academic challenges, but also take account of wider challenges, such as attendance.
School leaders will take account of their in-depth understanding of any challenges that disadvantaged pupils are facing when developing their strategy.
These can be identified using a wide range of internal data and information, including:

Attendance data and levels of persistent absence;
Teacher feedback on pupils' levels of engagement and participation;
Behaviour incidences and exclusions data;
Information on wellbeing, mental health and safeguarding;
Access to technology and curricular materials.
School leaders must also utilise a broad array of external evidence to inform their decision making, alongside the expert knowledge they have of the pupils in their care. For instance, after identifying pupils in need of targeted reading interventions through standardised assessments, school leaders should seek relevant and robust evidence on which approaches are most likely to provide appropriate and effective solutions, such as particular phonics or reading comprehension programmes.
Evidence from research provides insight into what has happened in classrooms in the past, but not whether it will be effective in the future. Careful judgement of the relevance and applicability of the evidence is necessary. Additionally, thinking hard about the specific contextual factors of your school, and any necessary ​'intelligent adaptations', is essential when interpreting the evidence that informs your strategy.
The DfE guidance ​'Using pupil premium: guidance for school leaders' includes worked examples of pupil premium strategy documents that exemplify the use of a range of high-quality evidence sources.
Further support on accessing and interpreting evidence can be found on page 16 of the EEF's updated Pupil Premium Guide.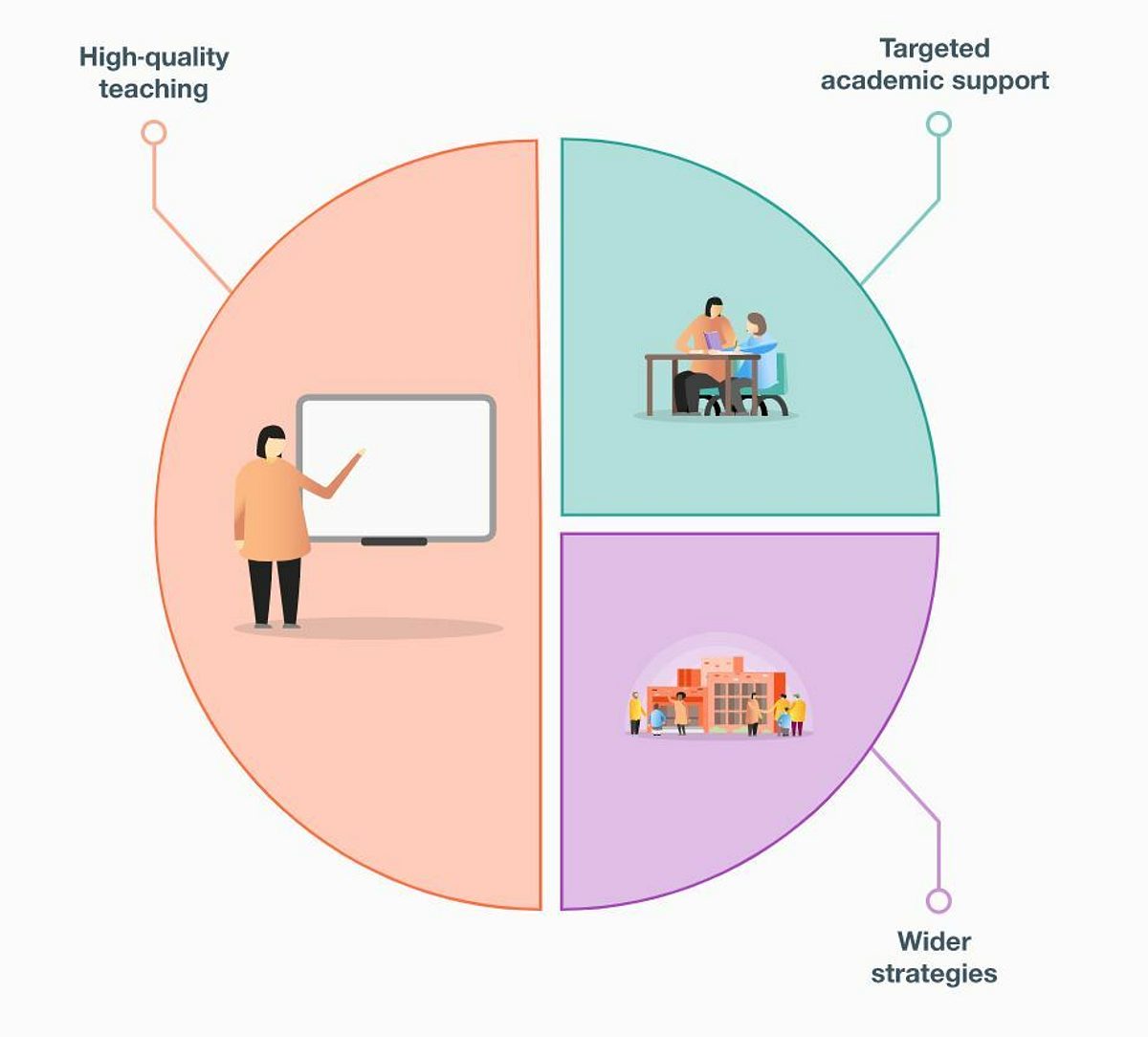 Many approaches within the tiered model will overlap categories, and the balance between categories will vary from year to year as schools' priorities change.

Schools should always combine evidence with professional judgement about how transferable approaches are to their own setting.
Successful implementation of a pupil premium strategy is a carefully staged process that takes time, rather than being a one-off event. The strategy needs to be aligned with other school development plans and existing practices to ensure a sustained impact.
School leaders will scrutinise the evidence that has informed their strategy with a focus on effective implementation.
Practical questions that may attend this focus on implementation may include:

How have we successfully addressed similar challenges and needs of disadvantaged pupils in the past?
How do aspects of the strategy align with existing beliefs, assumptions and practices of staff?
Does the approach require changes to processes or structures, such as timetables or team meetings?
Does the strategy provide the necessary professional development and support for staff to implement the approach successfully?
Are there any activities that you should stop doing, either because they are not working, or because their impact is weaker than you believe new approaches may be?
The EEF's guidance report ​'Putting Evidence to Work: A School's Guide to Implementation', offers comprehensive advice around the implementing change in schools.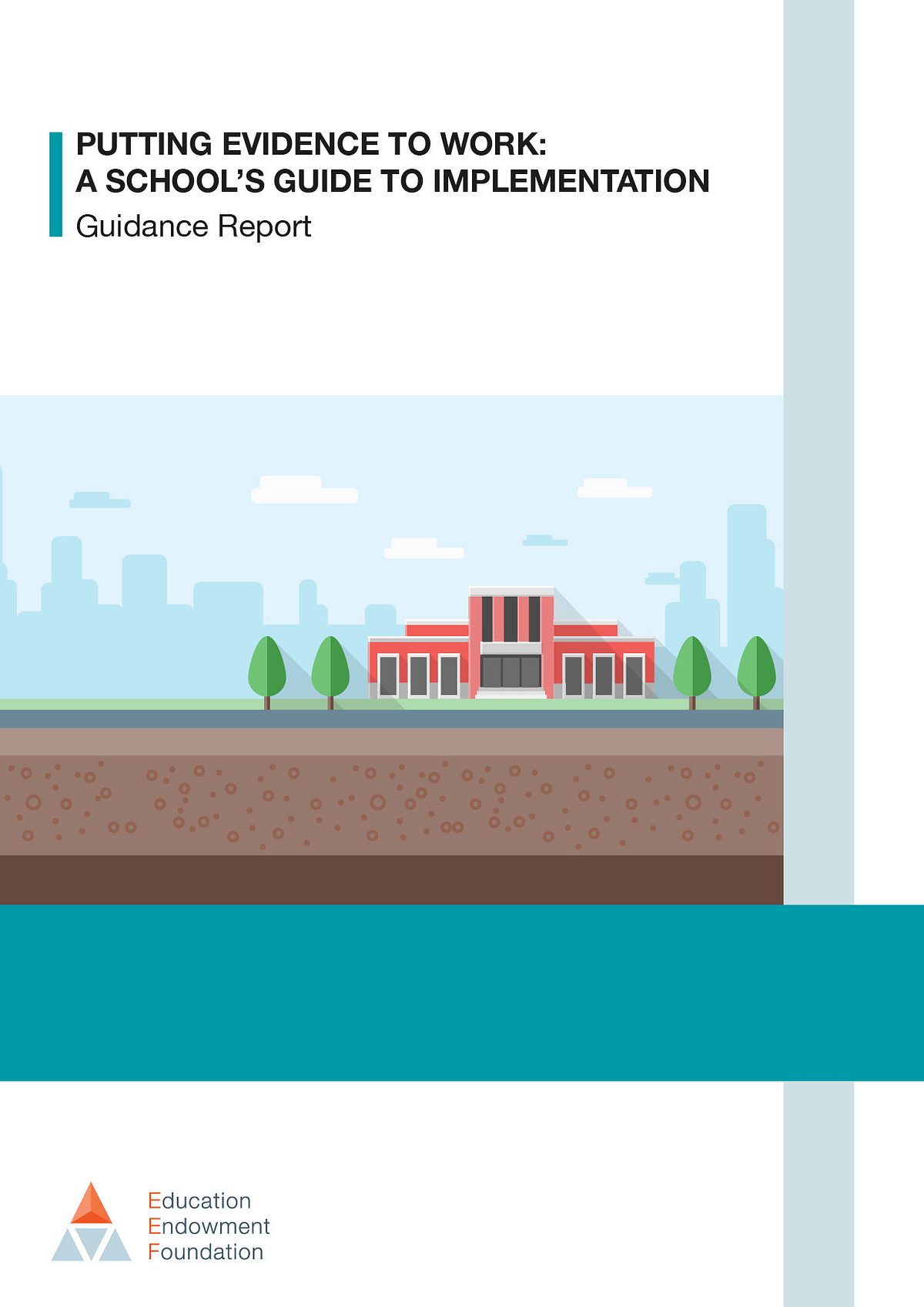 School leaders must continually monitor the progress of the pupil premium strategy, adapting their approach when and where appropriate.
As new initiatives are implemented it is important to provide support for staff so that they can take ownership of them and deliver them successfully.
School leaders will likely consider:

How to provide flexible and motivating leadership as challenges emerge;
What training or follow-on support is required for staff beyond initial training; and
How to respond to implementation data to tailor and improve approaches.
A pupil premium strategy is more likely to be effective if school leaders plan how to sustain it from the outset and monitor practice in an annual cycle. School leaders should not assume that strategies which have been effective in one year will continue to be effective in another.
An effective pupil premium strategy requires goal setting, underpinned by short, medium and long term outcomes needed to reach those goals. The ongoing rigorous evaluation of pupils' attainment, barriers to learning and needs is essential.
A focus on the achievement of pupils from disadvantaged backgrounds is no doubt challenging for school leaders, especially given the disruptions and impact of Covid-19, but it has never been more important.
The EEF has a range of resources and support for schools who are seeking to use their pupil premium funding effectively: