The EEF's Literacy specialist, Caroline Bilton – a primary school teacher, assistant headteacher and English lead – shares insights from our newly updated ​'Improving Literacy in Key Stage 1 Literacy' guidance report…
The first words of a child are recognised as an incredible achievement. It can be truly magical to witness. Those early excited words are a result of many months of watching and learning. There is such wonder at the child who has ​'caught' the ability to communicate, through early interactions with their carers
In these words and interactions, we see first-hand how language emerges as the critical foundation for learning, thinking and wellbeing
The explicit teaching of language and communication, reading, and writing, provide the very building blocks for success in school, and in life.
What more important contribution then, can a teacher make, than to continue this essential development? The explicit teaching of language and communication, reading, and writing, provide the very building blocks for success in school, and in life. Every primary school teacher has the privilege and challenge of sensitively sustaining and developing these early skills.
Teachers know that they can find opportunities to develop language and literacy skills within each moment of the school day. In Key Stage 1, each of those moments contributes to a crucial stage in a child's literacy development between the ages of five and seven. Evidence reiterates to us that great literacy instruction at Key Stage 1, is an essential support for all children, and especially those from disadvantaged backgrounds
Yet, despite our best efforts, a disadvantaged child in England is still significantly more likely than their classmates, from more advantaged homes, to leave primary school without reaching age related expectations in reading and writing.
To tackle this challenge, and support great teaching, the EEF first published Improving Literacy in Key Stage 1, in 2016. It offered teachers and school leaders an accessible overview of the best available evidence on supporting children's literacy in this stage of primary education
We have now updated it, both to take account of the latest research – including a number of relevant EEF-funded evaluations of high-potential programmes – and also to offer teacher-led exemplifications of how its eight recommendations can be put into practice.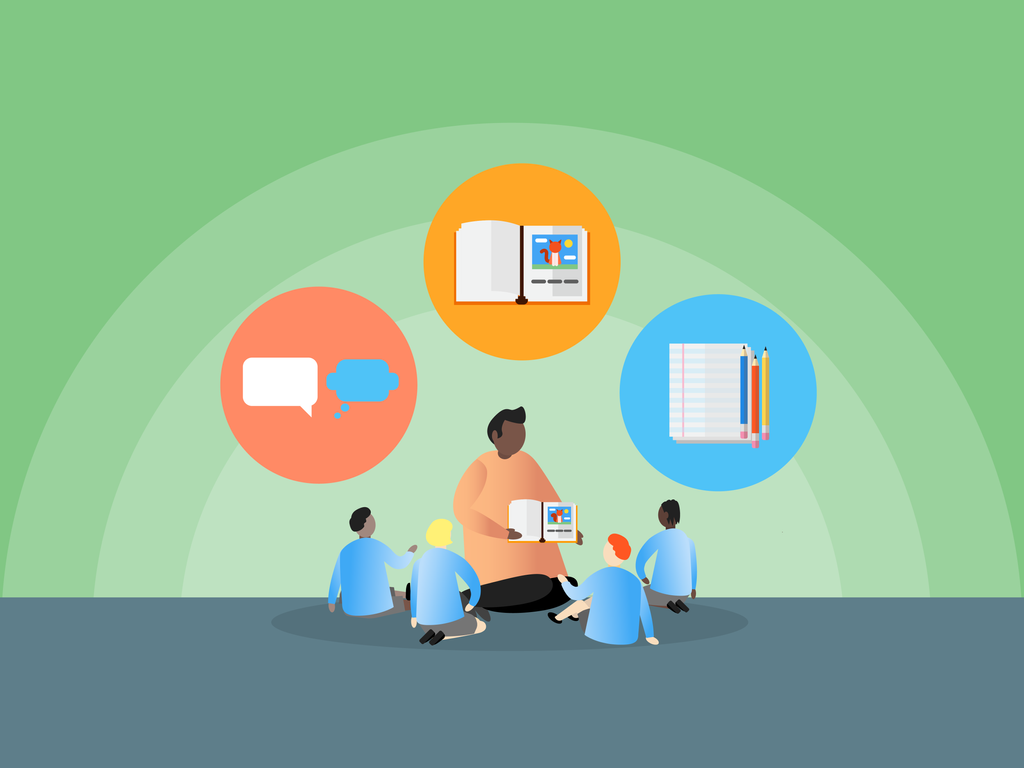 Improving Literacy in Key Stage 1
Eight recommendations to support the literacy of 5 – 7 year-olds
Read more about Improving Literacy in Key Stage 1
The first recommendation focuses on the central importance of speaking and listening skills. It stresses the consideration that must be given to the environment and opportunities which are planned to develop language skills. Further exemplifications of peer-to-peer and adult interactions are also included. A vital reminder of the importance of the quality of these interactions is emphasised throughout
Further recommendations focus on the components which must be taught explicitly, to develop the range of reading skills each child needs to become a capable and confident reader. The ability to read is recognised as an essential vehicle for learning. Indeed, it unlocks access to all other areas of the curriculum
Understanding writing as a process —not a single event— is fundamental to support children to communicate through the written word. A process which supports children's opportunities to plan and monitor their writing with a clear purpose and audience, alongside purposeful practice of transcription skills, is crucial
The final recommendations carefully consider the importance of high quality, up-to-date information about pupil's current capabilities and the use of structured interventions for children who are struggling with literacy. Assessment can be viewed as onerous, but the aim is to support teachers to understand the part it plays, within all interactions in the classroom, to generate a clear picture of each child.
One aspect of this guidance report has not changed: our aim remains to offer clear, practical and actionable advice that is relevant to all pupils, but particularly to those struggling with their literacy
We will continue working with the sector, including through our colleagues in the Research Schools Network, to build on the recommendations with further training, resources and partnerships. Working together, we can build upon the magic of those precious first words – securing and sustaining best practice in literacy instruction in Key Stage 1.