Talk to almost any school leader or teacher at the moment, and it will quickly become clear that behaviour is high on the list of priorities.

Managing misbehaviour is currently a particularly challenging issue for many schools. As the outgoing Ofsted Chief Inspector Amanda Spielman acknowledged recently, behaviour has widely deteriorated since the pandemic. This is a complex, multifaceted issue, which sadly does not come with quick fixes.

However, the research evidence can point us towards sound principles which provide some ​'best bets' for approaching behaviour effectively.

The EEF condenses the evidence base into six core recommendations: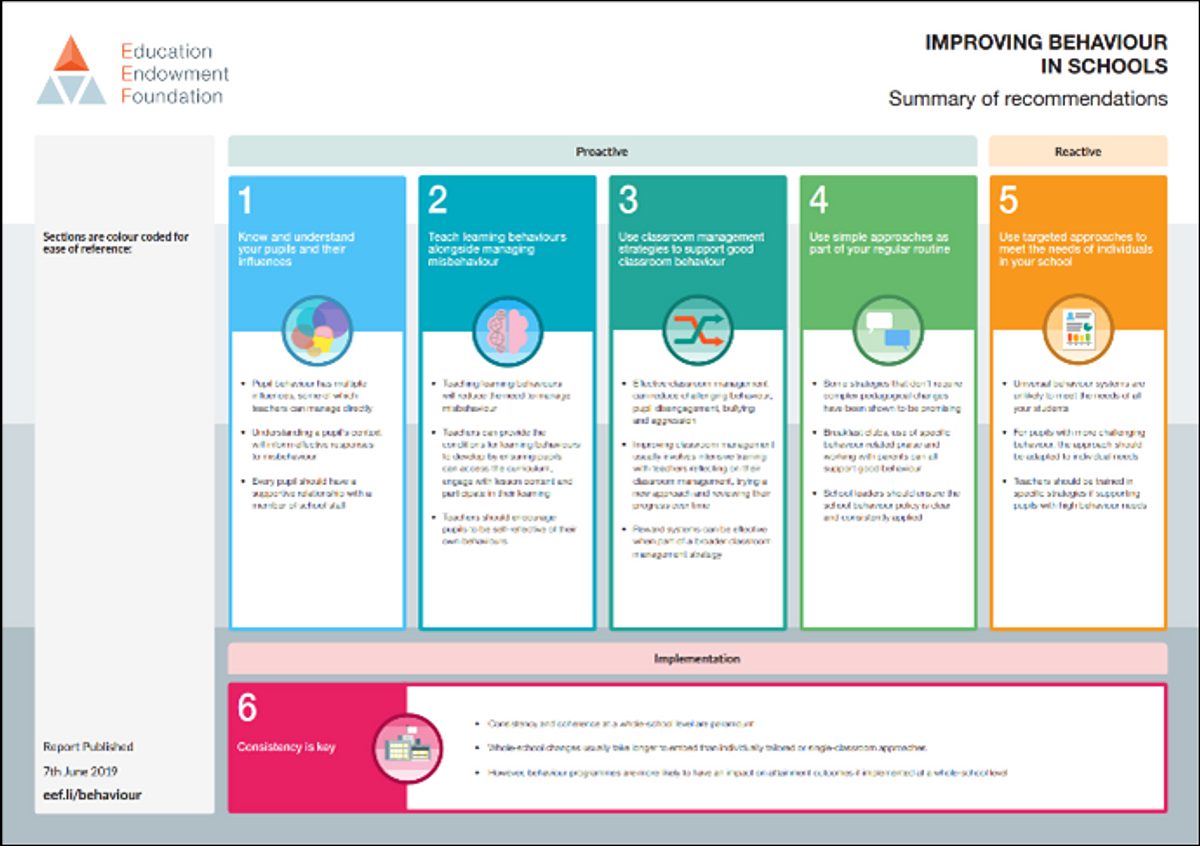 1. Know and understand your pupils and their influences.
2. Teach learning behaviours alongside managing misbehaviour.
3. Use classroom management strategies to support good classroom behaviour.
4. Use simple approaches as part of your regular routine.
5. Use targeted approaches to meet the needs of individuals in your school.
6. Consistency is key: consistency and coherence at a whole-school level are paramount.
Each of these is explored in more detail within the guidance report, but let's dig deeper into the sixth recommendation, which tells us that consistency is key. This is crucial for the effective implementation of any behaviour strategy we might choose to use in our schools.

However, in a pre-pandemic study, only a quarter of secondary and half of primary teachers agreed that the behaviour policy in their school was applied consistently by all staff. Furthermore, leaders tended to believe there was greater consistency than teachers did.

Consistency is important to pupils, their families and all school staff, so that boundaries are clear, school feels fair and safe, and teaching, learning and positive relationships can thrive.

Yet a degree of inconsistency seems inevitable, due to the nature of the work we do. The dynamic human environment of schools means teachers and leaders have to make constant decisions about how to apply a behaviour strategy in specific circumstances.

The needs of specific pupils might also require us to make reasonable adjustments to a strategy. This is not straightforward, but can be embraced as an aspect of the joyous complexity of working with people. Responsiveness and thoughtful adaptation are necessary for what we do in schools.

Supporting staff to navigate these situations with an adaptive flexibility that remains true to the school's core principles, as well as having a strong rationale behind a strategy, is likely to be an important part of achieving contextually aware consistency within a school.

This is a consistency that has some room for flex, and it is dependent upon leaders effectively considering, communicating and bringing staff together around the ​'why' of a strategy, to inform how it is interpreted, adapted and implemented every day.

You might also be interested in…

​'The flex: reasonable adjustment in the classroom for pupils with SEND' – a blog post by Gary Aubin, EEF content specialist alumni for SEND and Head of SEND for a Multi Academy Trust.