On part-time secondment to the EEF as our Literacy specialist, Caroline Bilton is also the English Lead, Pupil Premium Lead and Assistant Headteacher at Cragside Church of England Primary School, a large primary in south-east Northumberland. Here she writes about how Cragside school are putting reading at the heart of their approach to teaching and learning this year…
So, here we are… At the end of a very long half-term defined by the challenges and incredible achievements of the children and adults in our schools. Many of the challenges have been unrelenting and draining. And yet, the achievements have been all the more significant in the context of Covid-19.
At Cragside CofE Primary, the achievements started with early decisions about where to focus teaching and learning at the beginning of such an important term
Despite all the challenges, high-quality teaching has been the driving ambition with rich reading at its heart.
The decision was easy. As a school with a love of reading at its heart, we chose a book to capture the imagination of every child. A shared reading opportunity which would allow us to reconnect as a community. Additionally, it would prove an aid in integrating formative assessment, so that we could carefully understand the children's individual needs on their return to school.
With the help of the Centre for Literacy in Primary Education (CLPE), we chose Here We Are – Notes for Living on Planet Earth by Oliver Jeffers. It is a beautiful book which unpacks the magic and wonder of the world through the eyes of a child
Reading a book with such rich opportunities for discussion was a vital step in supporting the children's language and communication. Our very earliest observations had confirmed that a focus on talk was essential to support work across the curriculum.
Jeffers' book offered many opportunities to scaffold and model reading comprehension strategies too. The recently updated Improving Literacy in Key Stage 1 guidance report exemplifies this process
One of the areas of focus for the guidance is to support teachers to understand their role in developing inferencing skills through high-quality discussions between adults and children (as highlighted in Box 1 from the report, below). Ultimately, the aim is to support children to make and discuss inferences independently when they read, along with talk with their peers, so that they can develop a rich mental model of the text at hand.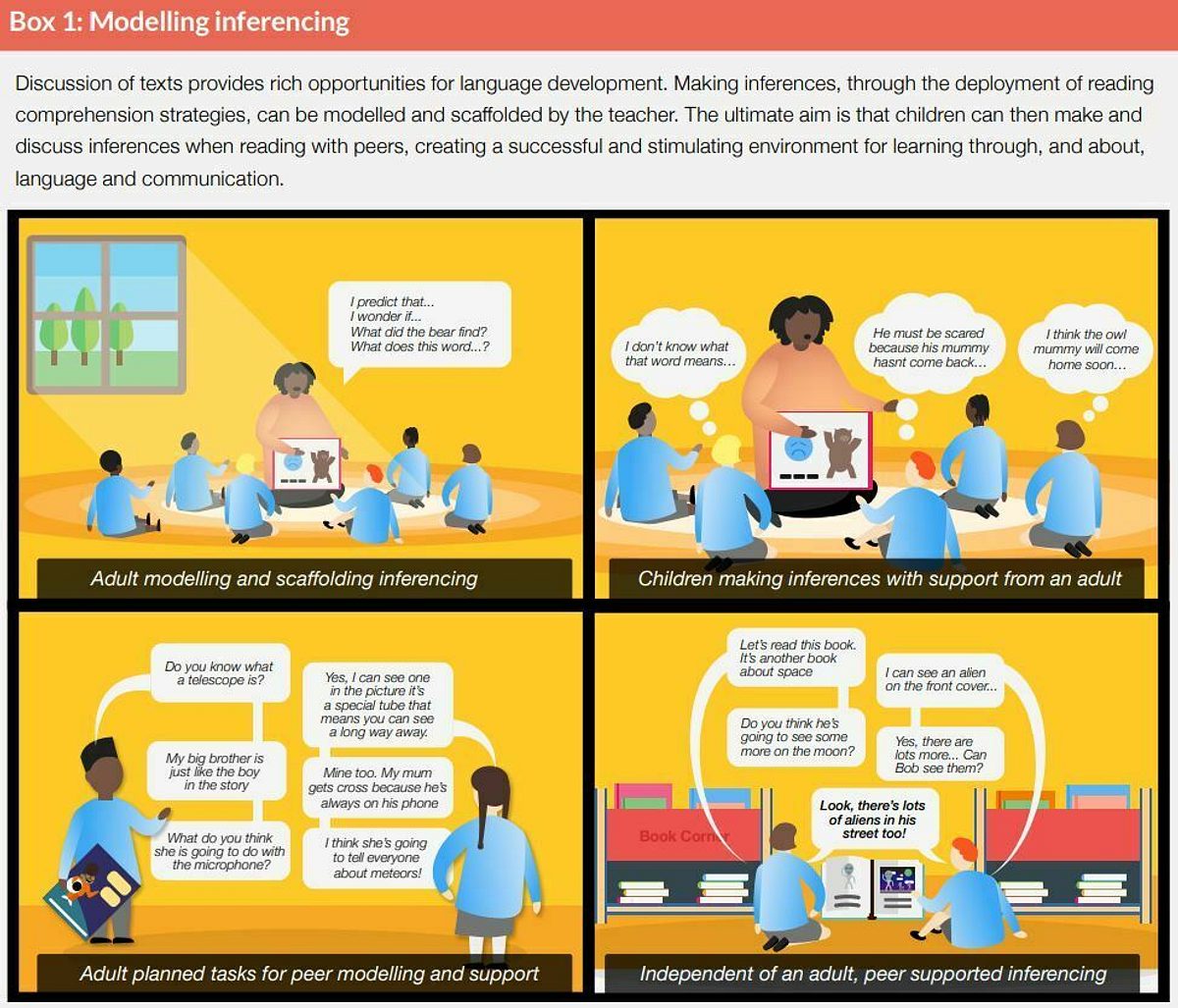 High-quality book talk, which was prioritised in every class, also helped to re-build high levels of motivation and engagement to read for pleasure and to take on the challenge of reading a rich, complex text full of ambitious vocabulary, imagery and more – just like Jeffers' Here We Are
The Cragside Reading Challenge reward system was supercharged to ensure that book gifting was carefully used by class teachers to reward small steps in the return to regular home reading.
Alongside the focus on reading, we also identified the need to work on spelling and handwriting. Lockdown had meant very little writing for some children. Lots of tasks had been completed electronically, with lots of time having been spent with a phone or games console
We knew handwriting and spelling practice could also provide quick wins in terms of building clear and accessible goals for children to take great pride in achieving. The focus of handwriting practice was on the process rather than product (as highlighted in Box 5 from the report, below). Careful assessment of any inefficient letter formation was used to support greater fluency and efficiency
With more fluent transcription skills, we recognised that the children could devote more of their working memory to the content of their writing. Of course, they could also then enjoy writing their own Notes from Planet Earth to accompany Jeffers' book.
Hard work, determination and careful planning have ensured a successful return to school for the children and families at Cragside. Despite all the challenges, high quality teaching has been the driving ambition with rich reading at its heart.