I will always remember our September 2021 training days. They were filled with optimism and positivity, as we eagerly prepared for the students to return to school and were ready to embrace ​'normality'.

We were all so keen to move on from ​'pandemic survival mode' and to be able to concentrate once again on developing our teaching practice and delivering high quality lessons. However, it wasn't long before we realised that school life wasn't back to business as usual.

At the same time as grappling with the challenges of staff and pupil absence, we realised that the past 18 months had led to significant setbacks for some children in terms of their learning behaviours.

In a meeting with Subject Leaders recently, they shared examples of pupils being less resilient. They shared tales of tears being shed over burnt custard in Food Technology lessons, along with more pupils opting out of activities in PE rather than having a go.

These challenges appear to have increased outside of the classroom too. Many pupils also seem to be unable to manage their behaviour effectively and we are dealing with significantly more behavioural issues during social periods of the school day.

Upon reflection, this is hardly surprising. Our pupils have missed school time, important curriculum topics and the routines that they are normally so used to in our classrooms. As we support pupils to return to these routines, now feels like the right time to focus on how we can explicitly structure our support for better independent learning.
Supporting structured independent learning
Too often we assume that the best way to develop independent learners is to simply give them more freedom and independence in the classroom, however, research suggests that this is not actually the case. Recommendation 6 of the EEF Guidance Report ​'Metacognition and Self-regulated Learning' refers to the need to explicitly teach pupils how to organise, and effectively manage, their learning independently.

In recommendation 6, independent learning is defined as ​'when pupils learn with a degree of autonomy, making active choices to manage and organise their learning, while deploying metacognitive strategies in the process'.

We need to give pupils opportunities for guided practice, where we provide support, prompts, and scaffolding. The 7‑step model from the guidance offers us a useful framework by which to do this: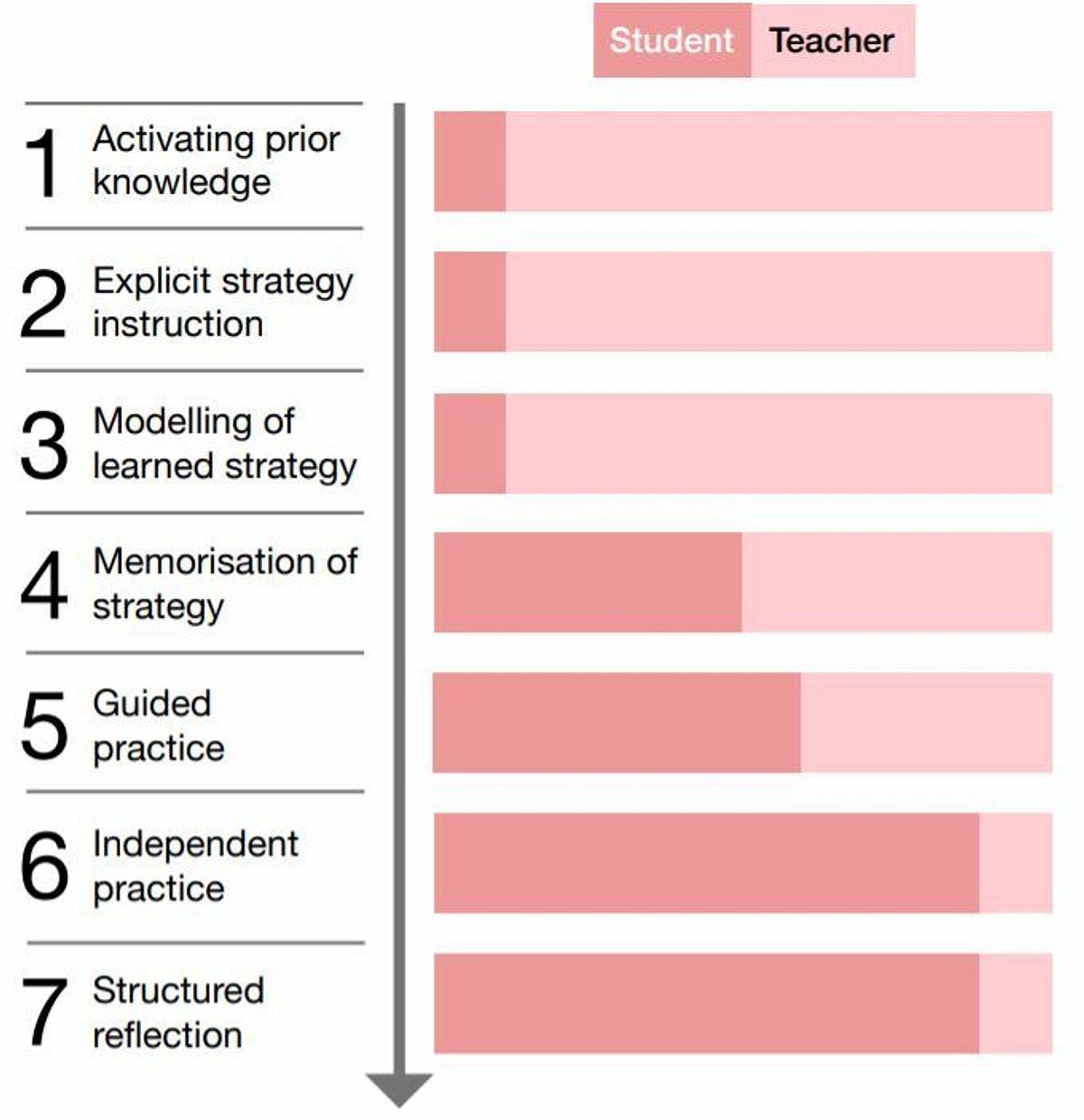 I have found this helpful across all age groups – whether it's supporting my 2‑year-old son to develop independence when riding his new scooter – or teaching my 18-year-old Psychology students how to effectively structure an essay!

Developing and structuring independence involves a planned shift in responsibility from the teacher (shown by the light pink part of the box) to the pupil (shown by the dark pink part of the box). The guidance explains how ​'guided practice' enables the teacher to provide pupils with support and prompts.

The pupil can assume more and more responsibility as they become more proficient, but they need to have new learning and strategies clearly modelled for them before they gain independent expertise. This may be especially effective for those tricky tasks, like Food Technology practicals or similar.

For instance, when teaching A‑Level psychology students how to plan an essay, I will start by modelling to the students what this looks like in concrete terms. I'll explain why it is useful to structure their work in this way and model my reflections, such as ​'Last time I forgot to include key terminology, so this time I am going to ensure I embed some throughout the essay and include them in my plan.' After modelling the ​'think aloud', I will circulate the room and offer targeted support where needed.

Crucially, I would go on to set an independent homework task, with pupils completing a plan themselves. We'd then return the next lesson with structured paired work, complete with supporting prompts.

By carefully considering the steps which scaffold pupils' journey towards independent practice, we can support children to develop self-regulation and metacognition in a structured and explicit way.

If we focus on doing this in our lessons (and even with our own children!) we can help them to adjust back into our routines, thereby supporting our pupils to manage their independent learning, whether we remain in pandemic mode, or return back to ​'normality'.