What metacognitive strategies are you using in the classroom; why; and what works well? These are three of the questions Adam Pritchard, local research lead at Norwich Research School, based at Notre Dame High School, asked the school's head of religious education, Miriam Sharif. Her answers offer a valuable insight into how she and her colleagues embed metacognitive strategies into their teaching practice…
We know that one of the most important things we can do for our students is to support high-quality teaching across the school. School-based teaching and learning priorities at Notre Dame High School have been rooted in metacognition, secondary literacy and memory in recent years, and we have continued to develop and embed these ideas.
Our Head of Religious Education (RE), Miriam Sharif, and her department, have been ​'pioneers' of a number of metacognitive approaches, and we met to discuss the rationale and outcomes of some of this ongoing work
The strategies shared by Miriam are the result of collaborative work within the RE department and much of the work exemplifies many of the key recommendations in the EEF guidance report, Metacognition and Self-Regulated Learning
What metacognitive strategies and approaches are you using?
I became more aware of the notion of metacognition around four years ago and, in many ways, I felt it was a ​'posh' word for something that we do parts of already. However, over time we have really focused on being more explicit with the metacognitive ideas that we are trying to utilise, and we've tried to do this in a number of ways.
We have become confident to make time and space available in lessons in order to support students to think for themselves.
We have looked very carefully at our schemes of work, our lessons and resources to identify opportunities where we could support our students to plan, monitor and evaluate their learning (recommendation one in the guidance report). Consequently, we have become more mindful of metacognition in our planning and preparation in order to be more explicit in our delivery with metacognitive ideas.
For example, we stop lessons regularly to discuss with students how to improve, and we model this approach.
We are also trying to support our students to become more scholarly. Our revision guides across all year groups have regular elements highlighting when, where and how students can be metacognitive in their thinking.

Recommendation 3 in the EEF's guidance is to model your own thinking, and this is key to what we are trying to achieve.
For example, we regularly use metacognitive vocabulary, verbalise the metacognitive thinking and model questions. Sometimes including really simple questions like ​'Have you made enough points to fully answer a question?' can be a real breakthrough for students. It's always surprising how many students really benefit from this.
We have also worked hard to make sure that this all works in tandem with our curriculum and now many elements have been simplified and embedded. Students know that this is a part of our lessons and are empowered to discuss these ideas in class. We want our students to have the means and strategies to call on to problem-solve and develop independence. These are really crucial skills.
Why did you choose these approaches?
When we did some reading on metacognition a few years ago, we knew it was something that we could improve in our teaching. Some of us are quite ​'seasoned' in our approaches, and all of us have been able to refresh our methods through ideas that we could all readily implement.
It is also worth saying that I do not believe in ​'fads', but I really felt strongly that this should be our focus as a department. We really bought into this to make it work effectively for us across all year groups. It is not a ​'bolt on' and we have never seen it as that. It is about breaking this down for students and making it accessible so that students become aware of how they learn and how they can develop themselves as independent learners.
We are not re-inventing a wheel either! We knew that we did some elements of this already, but from the reading we knew that we could make this better and significantly more effective and consistent. Hopefully it is clear how we have gone about this.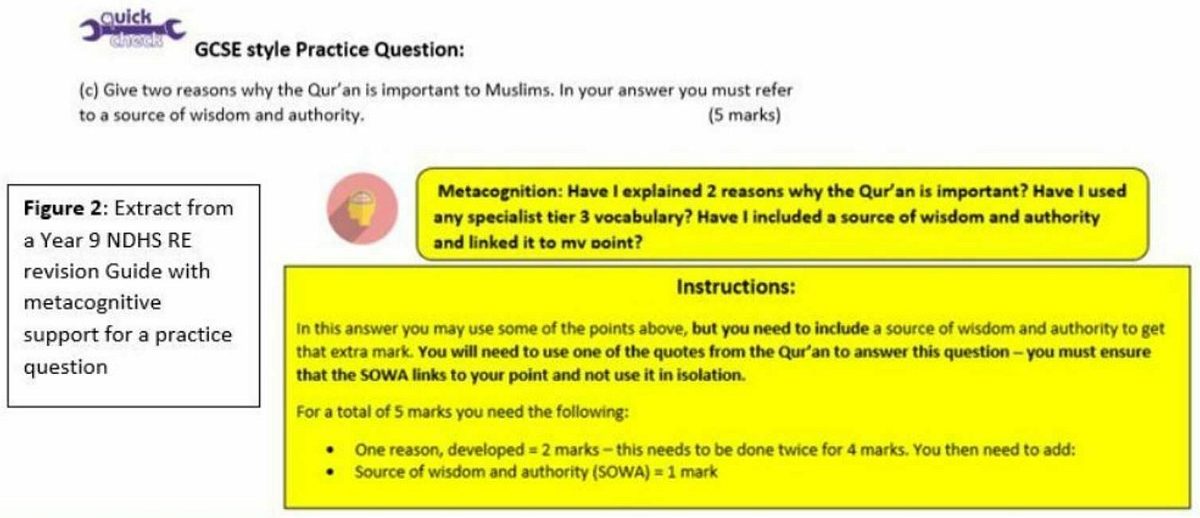 What works well?
This has become embedded in what we do – it is almost a culture within the department. We barely mention the word metacognition now, and where our instructions are metacognitive we often don't even refer to it as metacognition. Metacognitive questioning and dialogue has become fundamental to delivery of lessons in RE across all year groups.
We have become confident to make time and space available in lessons in order to support students to think for themselves. We are obviously assisting students by giving them ideas and specific things to think about and reflect on, but students are now more involved in their own education and we are supporting them to refine and hone the skills and strategies they need.
Finally, I would say that we have sought to blend this into lessons alongside our pedagogy so that it aligns closely with our teaching. It is a key part of our curriculum now and it is a key component in supporting lesson delivery and high-quality student learning.
Are there any aspects that you feel could be developed further?
What we currently have is not the finished product. We are still refining this and we could certainly still do things better. For example, we are looking to develop this further at A level, where questions are more complex and the level of detail required is much greater. To develop the skills at this level requires significant careful planning and support for students and we would like to look at this more closely.
While we have not formally evaluated this, and this is something that I have not wanted to do, through softer measures such as student wellbeing and judgement of student work it is clear that there have been a number of positive benefits and we will continue to monitor in this way for now.