This coming academic year, 2020 – 21, is unlike any before. Excitement at schools' full re-opening is likely to be understandably mingled with some trepidation. School leaders are having to juggle logistical challenges that attend pupil and staff safety and well-being, alongside new routines and re-establishing practices that support high-quality teaching and learning.
Though there is little evidence to steer many of the logistical challenges faced by school leaders, there is plenty of good evidence that can support and re-establish great teaching for all pupils.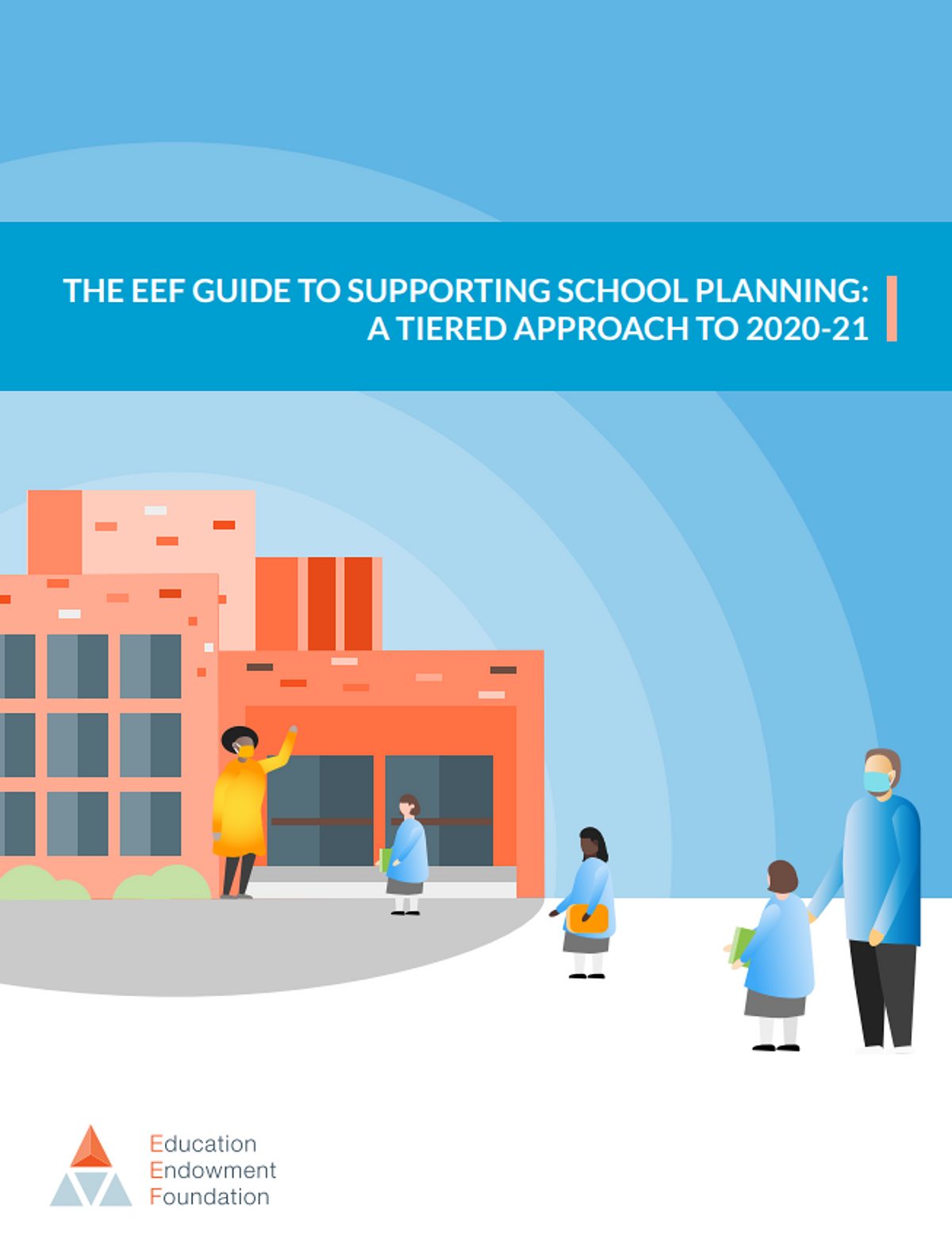 To support school leaders at this busy and unpredictable time, the EEF is today publishing a guide specifically to aid your planning: ​'The EEF Guide to Supporting School Planning: A Tiered Approach, 2020−21'
This coheres the best available evidence into one easily accessible resource, and has been developed in partnership with expert school leaders from across the country.
The guide proposes a tiered approach to prioritising your efforts and honing existing plans, geared around
high-quality teaching for all,
targeted academic support, and
wider strategies to support pupils in the year ahead.
If this feels familiar, it's because it explicitly builds on the model featured in our recent EEF Guide to the Pupil Premium, with appropriate adaptations.
The Covid-19 pandemic has demonstrated what those who work in education knew already: schools are committed organisations providing an essential service which is pivotal to their community.
Its purpose then was to help schools focus on a small number of strategies that are likely to make the biggest difference, making the most of schools' finite funding, energy, training and time. Given the pressures schools are now under, and the likely widening of the attainment gap in the past six months, we believe it to be even more relevant and important now.
Many of the featured approaches supported by the best available evidence will be familiar to experienced school leaders. This guide supplements such expertise, offering handy questions and recent school case studies that can hold up a mirror to existing leadership plans.
Coming back stronger
The past six months of partial school closures has been an intensely challenging period. Equally, it has reasserted, if there was ever any doubt, the commitment and expertise of school leaders in supporting their pupils and their local community.
Many children – particularly those from disadvantaged backgrounds, or who are vulnerable in other ways – will have been adversely affected by extended time away from school. At the same time, some children will have thrived through home learning and additional family time. For every child, returning to school should be grounds for optimism and a cause for no less excitement than in previous years.
School plans that address high-quality teaching, targeted academic support, and wider strategies, enacted with skill and determination, will enable all pupils to come back stronger and go onto to succeed in the academic year ahead