The EEF's literacy specialist and serving assistant headteacher, Caroline Bilton, celebrates the ways in which primary school teachers have responded to the many challenges presented by this unprecedented year…
One thing is certain, 2020 will not be an easy year to forget. The year in which teachers have coped with challenges which were unimaginable just one year ago. But cope we have: each school in its own unique way, within its own unique context.
If there were any who needed us to prove our commitment, and our place at the heart of every community, we have certainly done that this year.
In this blog, we won't look at the practical and logistical solutions that have supported everyone in our school communities. Instead, we will celebrate a trio of ways our nimble-footed primary schools have managed the challenges that have come thick and fast
1) Supporting children's social and emotional needs
The ripples of effect of Covid 19 have been felt in every corner of society. We have tried to protect our children from the grief, fear, and the financial challenges that came with the pandemic. There is much that some children have witnessed which has been difficult for them. And so, even more significantly than ever, concern for children's well-being has been a priority in schools
In the EEF's Improving Social and Emotional Learning in Primary Schools guidance report, we are reminded to integrate and model SEL skills through everyday teaching
And that's exactly the starting point used by the teachers in the WISE Academy Trust in the North East of England. They have sought to find ​'teachable moments' across the curriculum: particularly, in the fiction texts they use in English lessons. Using the ​'Inside Out' framework in Figure 1, pupils are encouraged to unpack the emotions of characters in the stories they read.
The open-ended questions in figure 2, were used to support literacy skills, whilst also focusing on the opportunity to link fictional texts to their own experiences. In this context, the children have developed new vocabulary and practised applying social and emotional skills in the ​'safe' context of fictional characters

2) Together we are stronger when supporting remote learning
As schools grappled with a response to remote learning, Newcastle Research School worked with colleagues across the North of Tyne Combined Authority, to look at ways of sharing best practice and collaborating. Working together, they were able to identify key barriers for schools and suggest strategies for support
At the heart of their combined response were the findings in the EEF's Remote Learning rapid evidence assessment. For example, encouraging peer interactions was considered a significant strategy to motivate engagement with remote learning. Solutions, such as shared writing boards and platforms which support ​'chat' opportunities between pupils, were explored. Strategies which allow children to securely share their work were also carefully planned
Working together, the schools within the North of Tyne Combined Authority were able to share problems and solutions which ultimately benefited a number of children and families across the North East
3) Ongoing assessment to understand children's new starting points
One of the biggest challenges for class teachers has been how to carefully and sensitively undertake a range of assessments. After a time away from their teacher, completing variable amounts of home learning, how to know the detail of each child's understanding and confidence?
Using texts which give rich opportunities for discussion has proven to be a powerful starting point. Whether that be beautiful picture books appropriate for children from Early Years to Year 6. Such as, Here We Are by Oliver Jeffers, used by many primary schools including Cragside Church of England Primary. Or, collections of poetry to learn perform and recite, as teachers undertake meaningful and manageable assessment, and children find their voices again
Careful planning has ensured children have been inspired and delighted by the texts they've read. Whilst, under the radar of the interactions between teachers and children, a wealth of assessments have taken place to better understand attainment and confidence in language and literacy
The worked example in figure 3, from the update to the EEF guidance report, Improving Literacy in Key Stage 1, was written to support this ongoing assessment.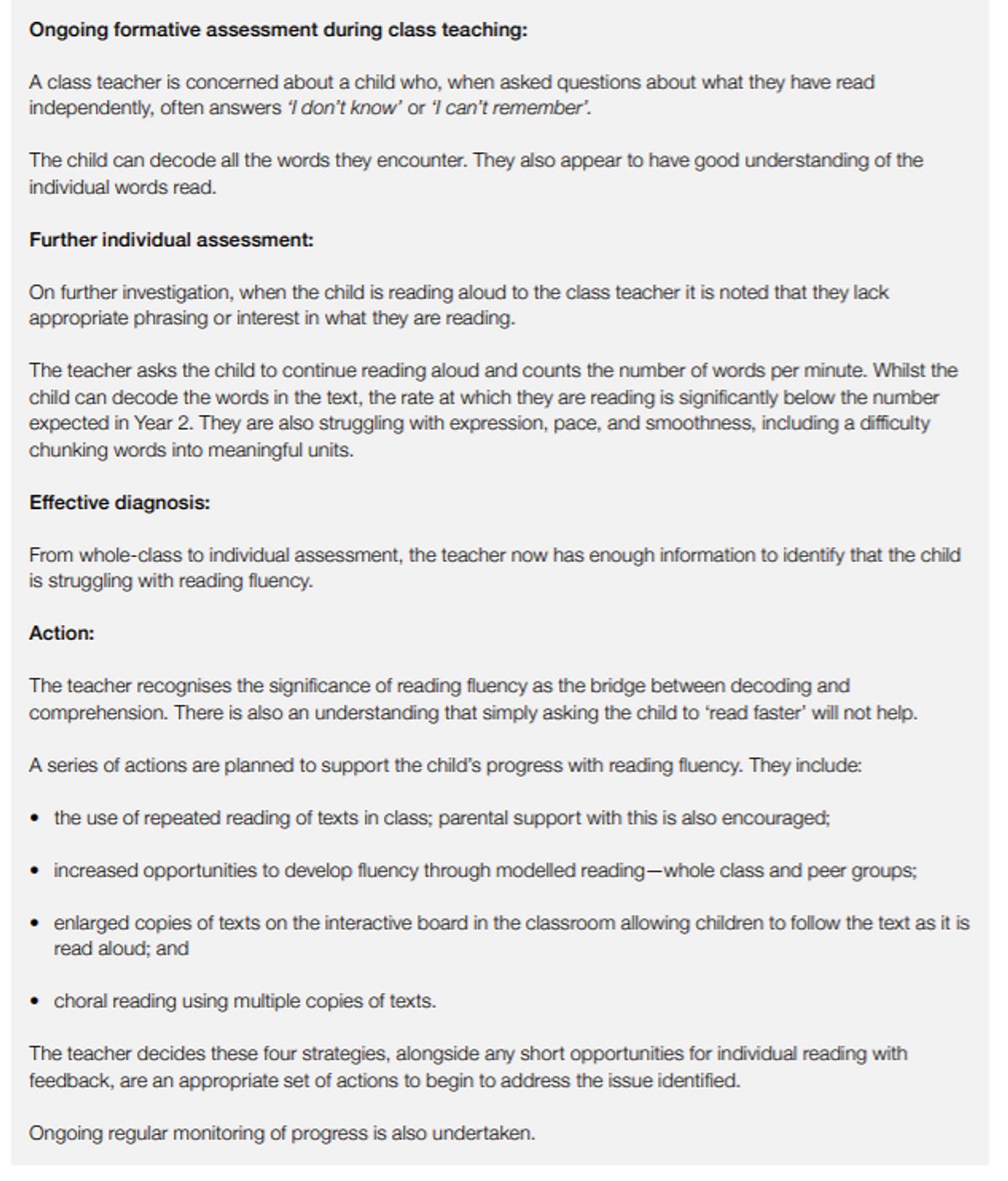 Time to rest and recuperate
If there were any who needed us to prove our commitment, and our place at the heart of every community, we have certainly done that this year.
The contribution my profession has made to support children and families this year is something to be immensely proud of – now and in the future. The monumental efforts and achievements cannot be overestimated
And now it is time to take a well-earned rest and chance to recuperate. I wish every one of my colleagues a peaceful and enjoyable holiday