EEF maths specialist, Simon Cox – a secondary school teacher and director of Blackpool Research School –celebrates the ways in which educators have adapted their practice to maintain high-quality maths teaching throughout these challenging times.
Who could have predicted back in January that school conversations in 2020 would be dominated by monumental logistical challenges and significant, persistent closures?
I'm immensely proud of my profession and the way teachers have risen to the extraordinary challenges that this year has presented us with.
Bubbles, face-masks, remote learning, one-way systems, staggered starts. You will no doubt be pleased to read that this blog is about none of these things.
Rather, this blog is about the learning conversations that have continued between teachers – at a two-metre distance, via email or on Zoom – despite the enormous day-to-day challenges they face. It is about the extraordinary lengths that teachers of mathematics across the UK have gone to in order to maximise the learning of their pupils in a year like no other.
Much of what we know about effective mathematics teaching, including from our two guidance reports, seems incompatible with the current classroom environment. But teachers are relentlessly resilient and innovative when it comes to doing the best for their students – and where there is a will, there is often a way.
Blended learning
One of the biggest challenges of 2020 has been implementing the exponential rise in remote and blended learning.
At Durrington High School, maths teachers created short videos to model their own metacognitive processes, and to help students become better self-regulated learners when away from the classroom. The videos, based upon the department's use of Hegarty Maths, show students how to set up for an online lesson; how to prepare themselves for quizzes via effective note-taking; how to monitor their progress and get themselves ​'unstuck'; and how to evaluate their successes and decide upon next steps.
Diagnostic assessment
At Ben Gordon's secondary school in Blackpool, teachers are restricted to a taped-out box at the front of the room. This makes ​'in-the-moment' assessment – a cornerstone of effective mathematics teaching – particularly challenging. So, diagnostic multiple-choice questions are used, with carefully chosen distractors, based upon common misconceptions. Pupils hold up their books, rotated to their choice of correct answer, and are prompted to consider and discuss why some pupils might choose the other answers.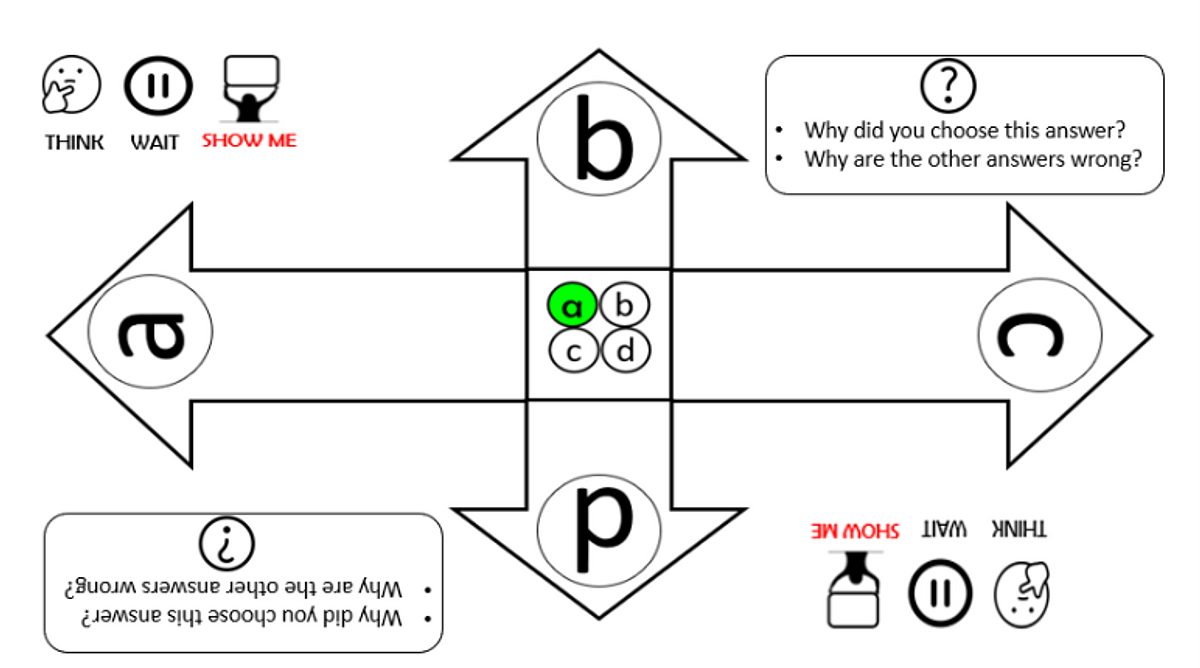 Feedback without marking
With many schools imposing restrictions on book handling, maths teachers have been finding creative ways to provide pupils with vital feedback on their work. Recording short videos in response to common mistakes, pupils uploading photos of their work for online teacher or peer annotation, and diagnostic use of online quizzes to inform next steps are just some of these. And with platforms like Google Classroom now becoming commonplace, teachers are building up substantial online banks of correct/​incorrect pupil solutions which could go on to form the basis of future rich classroom discussion.
Moving manipulatives online
The potential impact of manipulatives on the teaching of mathematics is well-evidenced. But restrictions on equipment sharing, together with the loss of a teaching base in many secondary schools, has made their use difficult. Sanitising hands before and after use, quarantining resources or reserving their use for one year group ​'bubble', asking willing technicians to create additional sets, or even taking the learning online using virtual manipulatives (such as those found on Maths Bot) have all been wonderfully innovative and successful temporary solutions to support the continued use of these vital tools.
Time to reflect – and to rest
Although early 2021 will, inevitably, continue where 2020 left off, there is now light at the end of the tunnel. Recent positive vaccine news means that lively staffroom chat, sharing classroom resources, packed assembly halls, and the buzz of a busy corridor are within our grasp once again.
One thing is certain as we head into the festive period: classrooms and communities country-wide have been blessed with committed teachers tackling monumental challenges with unprecedented effort and skill.
I'm immensely proud of my profession and the way teachers have risen to the extraordinary challenges that this year has presented us with. I hope my colleagues across the land enjoy a restful and enjoyable Christmas break – you've certainly earned it.